Download page follows PayPal payment. Learn more

about file formats. If unsure,

Choose MP3

.
by Bruce Boston
33 minutes, 59 seconds
Unabridged Speculative Poetry
1990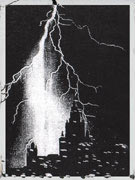 An 18-poem audio chapbook by the Grand Master of Science Fiction Poetry. Read by the author and set to music by Jack Poley. Features the 1985 Rhysling Award Winner "For Spacers Snarled in the Hair of Comets" and Rhysling Award Nominees "The FTL Addict Fixes" (1984), and "The Evolution of the Death Murals" (1986).
The poems in this collection first appeared in Asimov's SF, Amazing Stories, Aboriginal SF, Berkely Poets Cooperative, Lost Roads, The Magazine of Speculative Poetry, StarLine, Velocities, and Weird Tales. Full list…


The Alchemist Is Born in a Sudden Changing of Seasons
The Alchemist in Transit
The Alchemist Discovers a Universal Solvent
A Thousand Faces
The Alchemist Among Us
And Soon a Wolf For Every Door
Mean Time 2000
Beyond Procreation
The Beserker Enters a Plea
The Evolution of the Death Murals
The Eyes of the Pilot
The Star Drifter Grounded
The FTL Addict Fixes
For Spacers Snarled in the Hair of Comets
From the Double Ruins of Helix
Against the Ebon Rush of Night
The Knowledge at Londrai
Luminaries
SF Poetry (sometimes called "Speculative Poetry," sometimes called "Science Fiction Poetry") explores similiar themes and poses similiar "What if?" questions usually associated with science fiction and fantasy prose.
Wired Magazine has commended Boston for having "uncommon grace and clarity of vision. Boston writes with the voice of a poet, the heart of a bodhisattva, and the unblinking eye of an investigative reporter."



Bruce Boston is the author of more than forty books and chapbooks, including the novel Stained Glass Rain and the best-of fiction collection Masque of Dreams. His stories and poems have appeared in hundreds of publications, including Asimov's Science Fiction, Amazing Stories, Realms of Fantasy, Weird Tales, Year's Best Fantasy and Horror, and the Nebula Awards Showcase. His fiction has received a Pushcart Prize and the Best of Soft SF Award. His poetry has won a record seven Rhysling Awards, a record four Asimov's Readers' Awards, an HWA Bram Stoker Award, and the Grand Master Award of the Science Fiction Poetry Association. He lives in Florida with his wife, writer-artist, Marge Simon. Website [new window]


Jack Poley is a Florida jazz pianist and composer whose latest work, "Dedicated Lines," can be purchased at CD Baby [new window]





Tags: 1990, 200 cents, 2004 Release, 20th Century AD, 30-60 minutes, Adventure, Bruce Boston, Bruce Boston (reader), Fantasy, Free Verse, Poetry, Poetry Collection, Popular Author, Science Fiction, SF Poetry, Speculative, The Longer Stuff