by M R James
24 minutes, 24 seconds
Unabridged Ghost Story
1895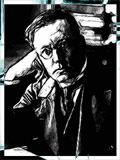 An early ghost story by James about a kidnapper/dabbler in the occult who has a keen interest in removing the hearts of children. You're welcome. Performed by Susie Berneis.
Originally for sale on March 30, 2009, and released free with a Creative Commons Attribution-Noncommercial License five years later. See the Mission page for why.