by Percy Shelley
5 minutes, 13 seconds
Unabridged Formal Poetry
1816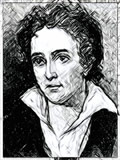 A confessional poem by Shelley, written during the summer he spent on the shores of Lake Geneva. Read by Alex Wilson.

Originally for sale on April 30, 2004, and released free with a Creative Commons Attribution License five years later. See the Mission page for why.




Percy Shelley (1792-1822) was an English Romantic-Era poet known for his radical values (for the time period) and his idealism about human nature and love. His wife, Mary Shelley, was the author of the novel Frankenstein (and was the daughter of Mary Wollstonecraft).


Alex Wilson is a writer and actor from northern Ohio and now based in Carrboro, North Carolina. His stories and comics have appeared/will appear in Asimov's Science Fiction, The Rambler, Outlaw Territory II (Image Comics), Weird Tales, Futurismic, LCRW and elsewhere. Locus has called him a "promising new writer," and Publishers Weekly also has nice things to say. Website)

Alex has performed lead roles in the North American premiere of (Richard Taylor's musical) Whistle Down the Wind and (Emmy-nominated director Jack Lucido's film) The Third Cord. He has recently appeared in the Deep Dish Theater productions of Hedda Gabler and Moon for the Misbegotten, and recorded narrations for Escape Pod and Night Shade Books. (Acting Resume/Reel) On early Telltale recordings, Alex is sometimes credited as "Alexander Wilson." He founded Telltale in 2004.





Tags: 1-15 minutes, 1816, 19th Century AD, 2009 Release, 2010 Release, Alex Wilson (reader), Formal Verse, Free, Oscar Wilde, Podcast, Poetry, Romance