by Rudyard Kipling
1 hour, 15 minutes
Unabridged Story Collection
1891, 1894, 1902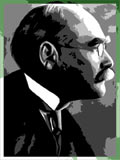 Three classic elephant stories by Rudyard Kipling:
The Elephant's Child (1902)

"In the High and Far-Off Times the Elephant, O Best Beloved, had no trunk. He had only a blackish, bulgy nose, as big as a boot, that he could wriggle about from side to side; but he couldn't pick up things with it. But there was one Elephant–a new Elephant–an Elephant's Child–who was full of 'satiable curtiosity, and that means he asked ever so many questions."

Moti Guj Mutineer (1891)

"Once upon a time there was a coffee planter in India who wished to clear some forest land for coffee planting. When he had cut down all the trees and burned the under-wood the stumps still remained. Dynamite is expensive and slow-fire slow. The happy medium for stump clearing is the lord of all beasts, who is the elephant."

Toomai of the Elephants (1894)

"Kala Nag stood ten fair feet at the shoulders, and his tusks had been cut off short at five feet, and bound round the ends, to prevent them splitting, with bands of copper; but he could do more with those stumps than any untrained elephant could do with the real sharpened ones."


Performed by Robert Bethune.
Originally for sale on July 31, 2008, and released free with a Creative Commons Attribution-Noncommercial License five years later. See the Mission page for why.
Rudyard Kipling (1865-1936) was an English author, most famous for his stories in The Jungle Book series. He won the Nobel Prize for Literature in 1907.


Freshwater Seas can be found online at freshwaterseas.com. [new window]





Tags: 1-2 hours, 1891, 1894, 1902, 1st Century AD, 2008 Release, 2013 Release, 20th Century AD, 300 cents, Adventure, Fiction, Free, Popular Author, Rudyard Kipling, Short Story, Story Collection, Susie Berneis and Robert Bethune (readers), The Longer Stuff