by M R James
29 minutes, 53 seconds
Unabridged Ghost Story
1923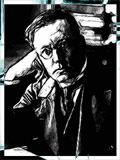 Probably the most famous of the ghost stories of M R James. Commissioned by Queen Mary for her doll house library, which is still on display at 1:12 scale in Windsor Castle. Performed by Susie Berneis.
Originally for sale on October 26, 2008, and released free with a Creative Commons Attribution-Noncommercial License five years later. See the Mission page for why.
(from Wikipedia:)
Montague Rhodes James (August 1, 1862 - June 12, 1936), who used the publication name M. R. James, was a noted British mediaeval scholar and provost of King's College, Cambridge (1905-1918) and of Eton College (1918-1936). He is best remembered for his ghost stories in the classic 19th century Yuletide vein, which are widely regarded as among the finest in English literature...


Freshwater Seas can be found online at freshwaterseas.com. [new window]





Tags: 100 cents, 15-30 minutes, 1923, 2008 Release, 2013 Release, 20th Century AD, Fiction, Free, Ghosts, Horror, M R James, Mystery, Podcast, SF Story, Short Story, Susie Berneis and Robert Bethune (readers)