by Henry James
44 minutes, 35 seconds
Unabridged Fantasy/Horror Story
1868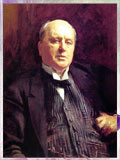 The first ghost story of Henry James, and was part of a gothic literature revival in the 1880s. First appeared in The Atlantic Monthly. Performed by Susie Berneis.
Originally for sale on September 29, 2008, and released free with a Creative Commons Attribution-Noncommercial License five years later. See the Mission page for why.
(from Wikipedia:)
Henry James (April 15, 1843 - February 28, 1916) was an American-born British author. He is one of the founders and leaders of a school of realism in fiction; the fine art of his writing has led many academics to consider him the greatest master of the novel and novella form ... He is primarily known for a series of major novels in which he portrayed the encounter of America with Europe. His plots centered on personal relationships, the proper exercise of power in such relationships, and other moral questions. His method of writing from the point of view of a character within a tale allowed him to explore the phenomena of consciousness and perception...


Freshwater Seas can be found online at freshwaterseas.com. [new window]





Tags: 1868, 19th Century AD, 200 cents, 2008 Release, 2013 Release, 30-60 minutes, Fiction, Free, Ghosts, Henry James, SF Story, Susie Berneis and Robert Bethune (readers), The Longer Stuff