by L. Frank Baum
3 hours, 36 minutes
Unabridged Fantasy/ Young Adult Novel
1900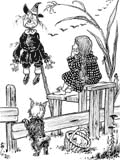 The beloved novel about a quest to see a Wizard. Join Dorothy, Toto, the Scarecrow, The Tin Woodman and the Cowardly Lion in an adventure that some would call the "first American fairy tale" (and, later, the inspiration for one of the most successful films ever made). Read by James Spencer.
Note: The podcast includes only the first chapter. The entire unabridged book is included in the downloadable bundles.

Originally for sale on April 5, 2005, and released free with a Creative Commons Attribution-Noncommercial License five years later. See the Mission page for why.


Lyman Frank Baum (1856-1919) was a New York-born author best known for the beloved classics of children's literature, The Wonderful Wizard of Oz, and 13 other books in the Oz universe.


James Spencer has seasoned his narration and voice over skills for the past 20 years in radio, television, live performances, and multimedia. James' vocal styles range from warm and credible to funny and offbeat. He has been an award-winning actor, television reporter, and producer of video and multimedia projects. For more than a decade, he has served as the corporate voice of one of the country's largest corporations. He now fully devotes his time to building his multimedia production business, Active Voicing. Website [opens new window]



Tags: 1900, 19th Century AD, 2+ Hours, 2005 Release, 2010 Release, 20th Century AD, Adventure, Fables and Fairy Tales, Fantasy, Fiction, Free, Humor, James Spencer (reader), L Frank Baum, Novel, Podcast, Popular Author, SF Novel, Speculative, The Longer Stuff, Young Adult