Download page follows PayPal payment. Learn more

about file formats. If unsure,

Choose MP3

.
by Scott Ennis
30 minutes, 28 seconds
Unabridged Fairy Tale
2004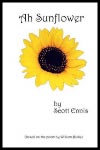 A short story based on the poem of the same title by William Blake. Ideal for children ages 4-10, but suitable for all ages. Includes an original song composed by Ennis and performed by Mike Jasper, using the original lyrics by Blake. The story is encoded at 64kbps, the song at 128kbps. Read by the author.

Ah sunflower, weary of time,
Who countest the steps of the sun;
Seeking after that sweet golden clime,
Where the traveler's journey is done;

Where the youth pined away with desire,
And the pale virgin shrouded in snow,
Arise from their graves and aspire
Where my Sunflower wishes to go."

–William Blake

Scott Ennis is a writer based in Central New York. He grew up in a Navy family. Scott spent some time in the Army as a paratrooper before attending college and graduating with a Bachelors degree in English Literature. The works of the Romantic period writers such as Blake, Wordsworth, Shelley, and Poe have had the greatest influence on his writing. Scott is married and has a son. Scott can be reached by email at scottennis@yahoo.com and his work can be ordered in book form at Lulu.com [new window].





Tags: 15-30 minutes, 150 cents, 2004, 2004 Release, 21st Century AD, 30-60 minutes, Fables and Fairy Tales, Fantasy, Fiction, Scott Ennis, Scott Ennis (reader), SF Story, Short Story, Speculative