by Clement Clarke Moore (or Henry Livingston Jr.)
3 minutes, 18 seconds
Unabridged Christmas Verse
1823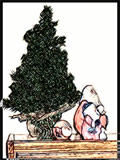 "A Visit from St Nicholas" (or "The Night Before Christmas"), since first published anonymously in the Troy Sentinel, widely introduced the modern concept of Santa Claus to the Western world.
The classic verse was later attributed to both Clement Clarke Moore and Henry Livingston, Jr., depending on who you ask.
Alex Wilson is a writer and actor from northern Ohio and now based in Carrboro, North Carolina. His stories and comics have appeared/will appear in Asimov's Science Fiction, The Rambler, Outlaw Territory II (Image Comics), Weird Tales, Futurismic, LCRW and elsewhere. Locus has called him a "promising new writer," and Publishers Weekly also has nice things to say. Website)

Alex has performed lead roles in the North American premiere of (Richard Taylor's musical) Whistle Down the Wind and (Emmy-nominated director Jack Lucido's film) The Third Cord. He has recently appeared in the Deep Dish Theater productions of Hedda Gabler and Moon for the Misbegotten, and recorded narrations for Escape Pod and Night Shade Books. (Acting Resume/Reel) On early Telltale recordings, Alex is sometimes credited as "Alexander Wilson." He founded Telltale in 2004.