by John Kendrick Bangs
21 minutes, 41 seconds
Unabridged Christmas Ghost Story
1894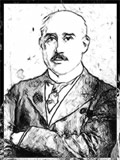 A humorous ghost story in which a particularly damp apparition appears on Christmas Eve.
"Far be it from me to be impolite to a woman, madam, but I'm hanged if it wouldn't please me better if you'd stop these infernal visits of yours to this house. Go sit out on the lake, if you like that sort of thing; soak the water-butt, if you wish; but do not, I implore you, come into a gentleman's house and saturate him and his possessions in this way. It is damned disagreeable."
Performed by Susie Berneis.
Originally for sale on November 30, 2008, and released free with a Creative Commons Attribution-Noncommercial License five years later. See the Mission page for why.