Download page follows PayPal payment. Learn more

about file formats. If unsure,

Choose MP3

.
by Mary E Wilkins Freeman
32 minutes, 40 seconds
Unabridged Mystery/Ghost Story
1902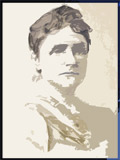 "David gave one stride toward the black veil, but it rose from the floor and moved away before him across the room at exactly the same height as if suspended from a woman's head…"
First published in Everybody's Magazine. Performed by Susie Berneis.


Freshwater Seas can be found online at freshwaterseas.com. [new window]







This recording will be released under the Creative Commons Non-Commercial Attribution License on May 27, 2014 or after 100,000 purchases, whichever comes first. Read more.