by Rudyard Kipling
1 hour, 14 minutes
Unabridged Story Collection
1894, 1895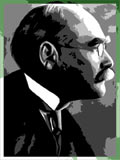 Two classic Rudyard Kipling stories of the Indian jungle:
The King's Ankus (1895)

The python Kaa takes the manchild Mowgli to the ruined city of Cold Lairs, seeking treasure but finding something far worse.

"These are the Four that are never content,
that have never been filled since the Dews began:
Jacala's mouth, and the glut of the Kite,
and the hands of the Ape, and the Eyes of Man."


The Miracle of Purun Bhagat (1894)

A rich man casts away all possessions in the quest for (or from?) his true identity.

"The night we felt the earth would move
We stole and plucked him by the hand,
Because we loved him with the love
That knows but cannot understand."

Performed by Robert Bethune.
Originally for sale on January 14, 2009, and released free with a Creative Commons Attribution-Noncommercial License five years later. See the Mission page for why.