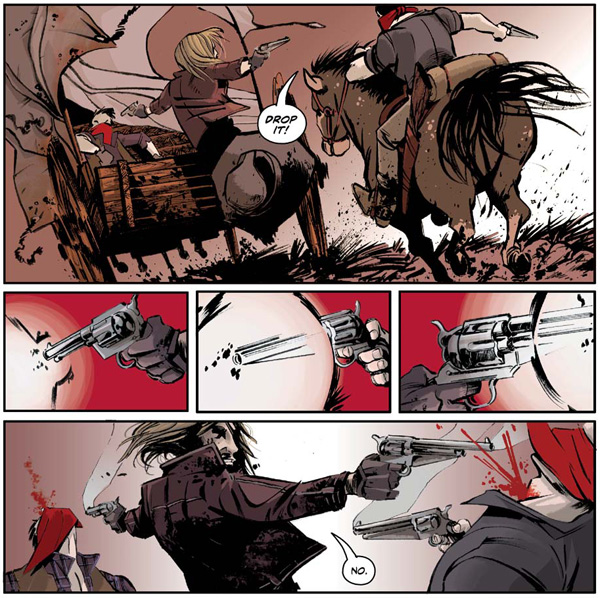 Outlaw Territory 2 Available Now!
The Image Comics western anthology Outlaw Territory 2 is available now. I've seen it locally at Chapel Hill Comics in Chapel Hill, NC. Any other sightings? Ask for it!
OT2 includes "The Whores in Trinidad Need Witnessing To," my story with Rick Lacy, illustrator of the very fun Oni Press book Labor Days and character designer for the animated series The Venture Brothers.
We share a table of contents with some amazing talent, including Len Wein, Jeff Lemire, Sean Phillips, Francesco Francavilla, Sean Chen, Greg Pak, Kathryn and Stuart Immonen, Robert Kirkman, and more. Editor Michael Woods has more details, along with preview art from the other stories at his blog.
I wrote our story back in 2008 and have loved seeing Rick's character designs, then pencils, then inks, then colors (then finally letters by Thomas Mauer) trickle in over the following months between his other projects. That our "Whores" will ultimately appear between stories by the likes of Len (cocreator of Wolverine, editor of Watchmen) Wein and Sean (illustrator of Sleeper and Criminal, big influences on a project I hope to be able to share with y'all shortly) Phillips and so many other comics creators I've long admired... is a nice, strong finish.
(To guarantee availability, ask your local comic book retailer to get a copy for you; usually they only need the title, but the Diamond order code is AUG100457. Comics are nonreturnable so--if you can believe it--preorders in comics publishing can matter even more to the size of a comic's print run than they matter in the fiction publishing world.)